The Course
Course Description
The event has a huge amount of fantastic single track that gets very well marked and groomed for the event, making for an exhilarating and thrilling ride. The 100km usually has 43km of single track and the 50km usually has 24km of single track.
The 100km course starts at East Kowen Forest near Sparrow Hill. After riding the best of the excellent East Kowen Forest tracks you head into Sparrow Hill before returning to East Kowen, Central Kowen and West Kowen single tracks. After crossing Sutton Rd you enter into the Majura Military Training Area for a fast and direct track through Defence land. Please note you cannot access this land at any other time other then during the event. From there the course goes through Majura Pines and into the untimed section through town. The clock starts again at Black Mountain and the course goes through the National Arboretum and into the world class Stromlo Forest Park tracks.
This was the best 100km race we have done. Awesome flowing course, well organised and great feed stations. We will definitely be back next year –perhaps having done a little more training. Thank you so much AROC! 

Heather McIntosh, NSW
The 50km starts at The National Arboretum Canberra and heads through to Stromlo Forest Park where it takes in the smoothest and most flowing single tracks on Mount Stromlo as well as fire trails on the West side of Mount Stromlo.
I did the 50. I loved the new course Hopefully it becomes a permanent feature. Well done to all organisers and a big thank you to the course marshals.
Course Map
A copy of the final course map will be on display at registration. The course encompasses a combination of public land, forests, and private land. You can't ride all sections of the course other than on race day. View the google map showing the location of the 50km start, 100km start, finish, and Hotel Realm.
This would have to be the best marked out track in Australia. Superb organisation with plentiful flowing single track makes it my favourite endurance event. 

Kay Haarsma, Adelaide
Untimed Section
In the 100km event there is an untimed (non-race) section through bike paths and streets of Hackett, Ainslie, and O'Connor. The start of the untimed section is at approximately 61km and is 9.8km in length (included in the total course distance). The untimed section is included to ensure the safety of competitors and other track users through the urban area of Canberra. Any time you spend in the untimed section, up to 55 minutes, will be taken off your overall time. So if it takes you 45 minutes you will get 45 minutes taken off your time. If you take more than 55 minutes you will only get 55 minutes taken off your time.
The 65km feed station is located within the untimed section on the cycle path near Dickson College.
Below is the map of the untimed section. The route travels very close to shops in both Dickson and O'Connor. Local bike shop, Bike Culture, at O'Connor shops will be open for anyone requiring mechanical assistance.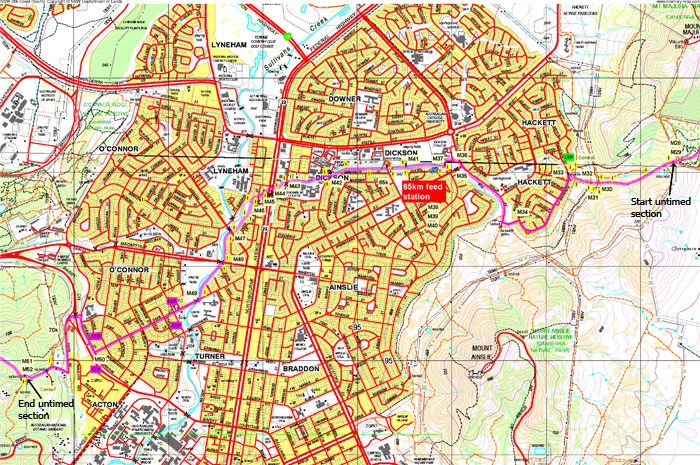 Elevation Profile
Capital Punishment 100km

Capital Punishment 50km

Training On Course
There is a combination of public land, Defence land, forests, and private land. You will not be able to ride all sections of the course other than on race day. If you want to train on the course, head out and do the tracks at Stromlo Forest Park, Kowen Forest and Sparrow Hill. In training, please take care and give way to other riders and members of the general public.
The section of track joining Kowen and Majura, through the defence land and military training area, is NOT ALLOWED TO BE RIDDEN AT ANY TIME other than during the official Capital Punishment race.
NOTE: You may only ride a mountain bike along formed fire roads within the Nature Parks of Canberra (on this course Black Mountain, Mt Ainslie and Mt Majura Nature Reserves). Walking tracks or any other narrow tracks may not be ridden in the Nature Reserves unless they are also signposted as cycling trails.
Feed Stations
The feed stations are stocked with danishes, ham and pickle scrolls, hot cross buns, fruit, lollies, Go Natural bars, Endura gels, Endura rehydration drink and water. There are also toilets and rubbish bins at each feed station.
Good doesn't really capture it- the feed stations were amazing! These are the best feed stations for any MTB event in the country!
There are three Feed stations for the 100km event. They are located at approx 40km (in Kowen Forest), 65km (on cycle path at Dickson college – untimed section) and 90km (start of the Stromlo climb). The 65km feed station is within the untimed section and is open to spectators and rider support crew. This feed station is located on the cycle path at Dickson College (click here for a Google Map).
There is one feed station for the 50km event. It is located at approx 26km which after the descent of Mount Stromlo via Skyline and Luge Tracks.